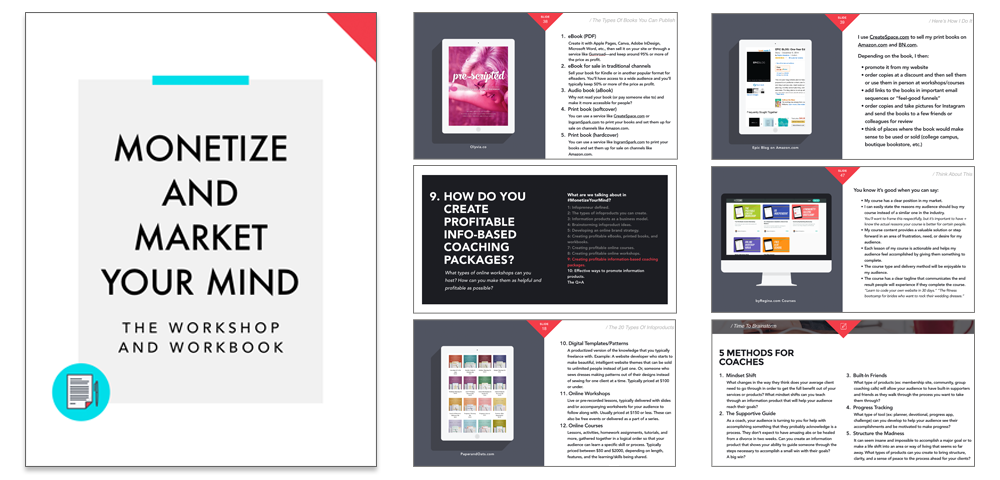 This foundational workshop and workbook for infopreneurs will:
introduce the multiple types of information products you can develop to create passive income for yourself (as you begin to shift your lifestyle and the way you do business)
show you how to truly view and treat information products as an intelligent business model
help you develop your online brand strategies, platform, and ideal reputation as an infopreneur
help you brainstorm product ideas in your niche
show you the numerous ways you can promote your information products
share the top, underutilized promotion method for information products and help you understand key ways you can start using it immediately
take a deep dive (with examples, tips, and worksheets) into the four most profitable information products
Sign up below for FREE to get started!
You'll also be signing up for free Ninja Notes from me (of byRegina.com)--and as a thank you, I will send you an additional free lesson via email tomorrow. It's all about How to Monetize Your Free Content and will show you what you can do with your blog posts, Periscope broadcasts, and podcast episodes to monetize them without creating ads for your services, or always having to email your list about your new products, etc.
Okay, I'll see you on the inside of the course!