If you have knowledge, skills, and passion for a certain topic that really excites you . . . and you want to make money helping people, this is the class for you.

Chances are you're already an infopeneur or are on your way to becoming an infopreneur--someone who can monetize their information. This class guides you through the process of establishing and growing a business based on helping others, teaching, creating courses, writing books, etc. It can be a seriously epic way to earn a full-time income or increase your quality of life.
Do you have friends who always ask you questions about a particular topic?
Do you find yourself always researching and obsessing over certain information?
Do you have a blog or social media account that you use to talk about something specific?
Do you want to monetize that in authentic, meaningful ways and create content that matters?
If you want to build your blog, and grow your online business: listen to Regina and stalk every single thing she does, because not only does she provide epic content but she cares. She truly cares, it shows in every blog post, every course, and every email. "
- Di, WorkoutWithDi.com
Let's talk about how this course can help with its three major course (in one) and four additional, actionable modules.
Module 1:
Getting Established and Developing Info Product Ideas
In this Module, you will:

Establish a solid foundation for creating information products.
Come up with nearly endless product ideas. We'll go through 25 ways to generate ideas.
Decide which product types are the best fit for your ideas and audience.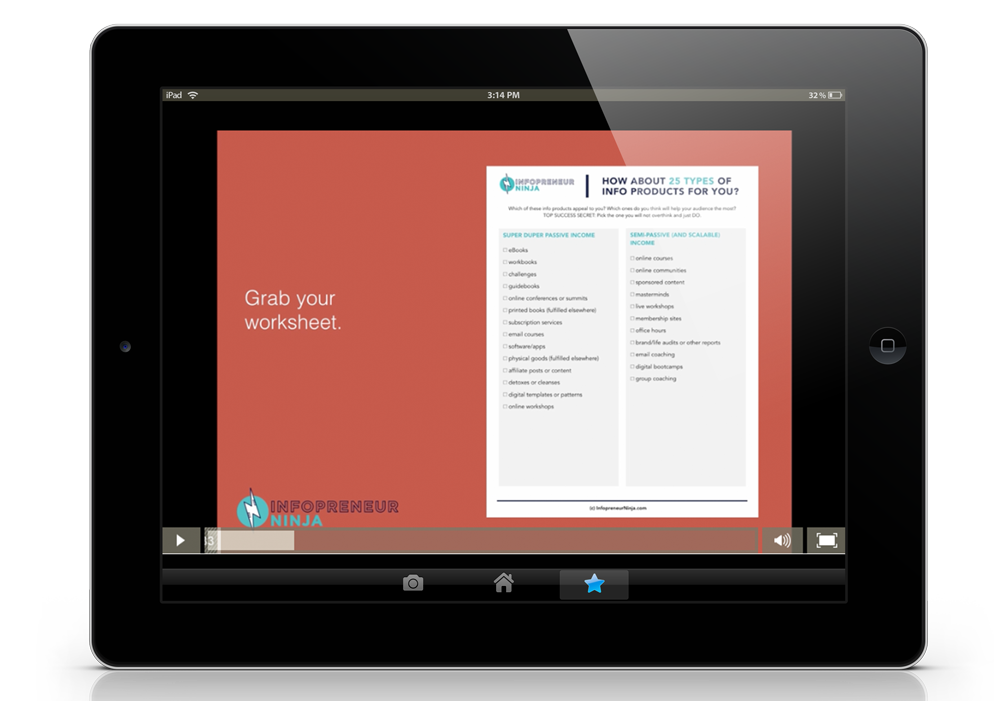 Module 2:
Creating a powerful content plan
This module will help you:
Create a product plan and queue that makes sense for your long-term goals.
Move past funnels into humanized sales.
Figure out how all your free and paid content will work together.
Create clear paths through your content for your audience.
This course also bundles in three other courses (valued at $197 each):

In these three courses, you will learn how to do everything below plus so much more:
Create books for consistent, passive income
Get your books designed or DIY the design
Get your books edited
Publish your books yourself
Set up winning sales paths for your books
Structure effective workshops
Deliver killer workshops
Price your workshops (or create epic free ones that still help you reach your brand goals)
Decide on the workshop tools and software that are right for you and your budget
Create profitable courses from your info product ideas
Decide on the type of course you want to create
Create engaged, epic communities to complement your courses
Plan, outline, name, and price your courses
Host your course on the ideal platform
Automate as much of the process as possible
Create course videos, worksheets, and collateral from scratch
Module 3:
Creating Super Passive Income
You will learn how to:
Monetize your blog and other content
Create online events you can monetize
Create passive income from digital and physical tools (I'll show you how I get my books and other product orders fulfilled for me so that it's truly passive income)
Module 4:
Launching Like a Human, Selling Like a Star
If your audience isn't made up entirely of extroverts, you can't only sell like an extrovert. If you're not only working with introverts, you can't always promote like an introvert.

Launching and selling has to be done from a wider angle, and this course will help you:
Develop a launch plan
Master the humanized approach to sales (where you make others feel good)
Create sales pages
Sell through email
Sell through blog posts
Use workshops, Periscope broadcasts, and more to sell
Create a social media launch queue

And so many bonuses . . .
#InfopreneurNinja comes with additional lessons and PDFs, such as:
. . . AND SO MUCH MORE.
---
Side note: I've been an infopreneur for a few years now and I want to show you how I've done it, so that you can avoid my errors and learn from the things I've done well.
I've created over 10 eBooks and workbooks, 2 printed books, more workshops than I can count, 3 email courses, 6 other online courses, 4 in-person classes, multiple in-person talks, and much more. I've built an actionable, real, intense course for you to show you how I built my business and the steps I took to start earning a full-time income from information products. I even share how I've scaled the business to create a multiple 6-figure income and finally hire some amazing people to help. This course is built for you if you have information that you seriously want to monetize and you're willing to put in the work to make it happen.
Your Instructor
I am an infopreneur who creates content for creative business owners, bloggers, freelancers, and generally awesome people. My belief is that you are legendary, so I create articles, videos, courses, workbooks, and books that help you reveal your true creative epicness. I want your readers to love you, your new customers to go crazy over you, and your fans to create #hashtags in your honor. That is all.
Class Curriculum
Our Facebook Community
Available in days
days after you enroll
Section 1: Decide Your Infoproduct Niche
Available in days
days after you enroll
Section 2: Brainstorm Infoproduct Ideas
Available in days
days after you enroll
Courses Included with Purchase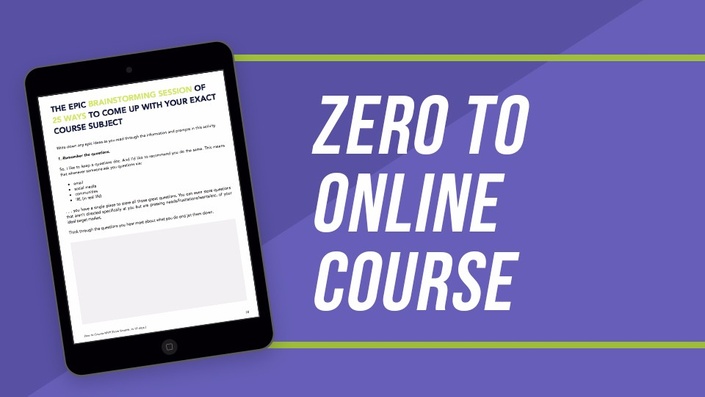 Zero to Online Course
Launch your epic online course on a topic you are passionate about. In 30 days or less. With guidance, tutorial walk-throughs, and a community to help.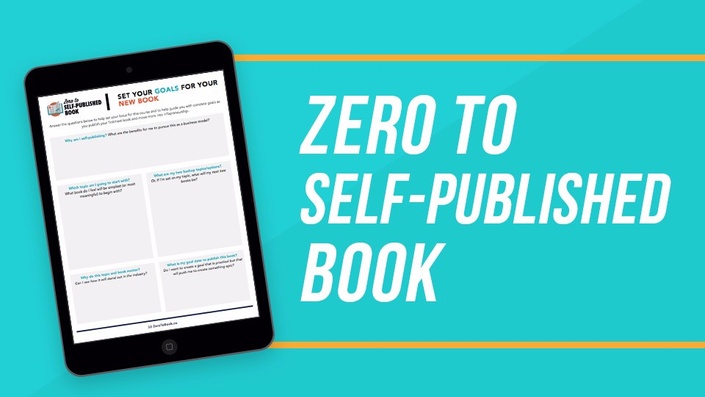 Zero to Self-Published Book
How to start publishing your own information books for profit and as a business model.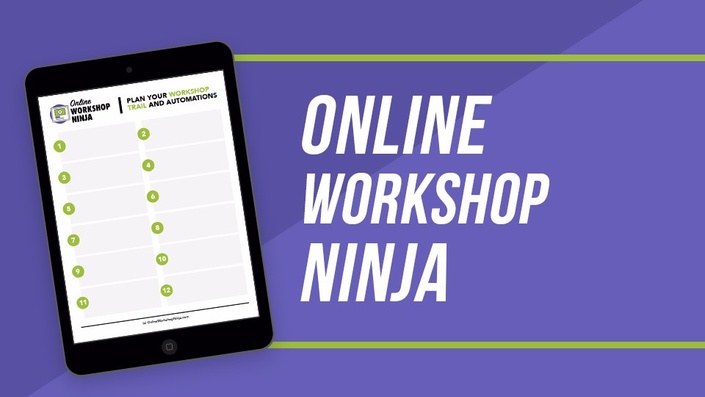 Online Workshop Ninja
How to plan, promote, deliver, and profit from amazing online workshops.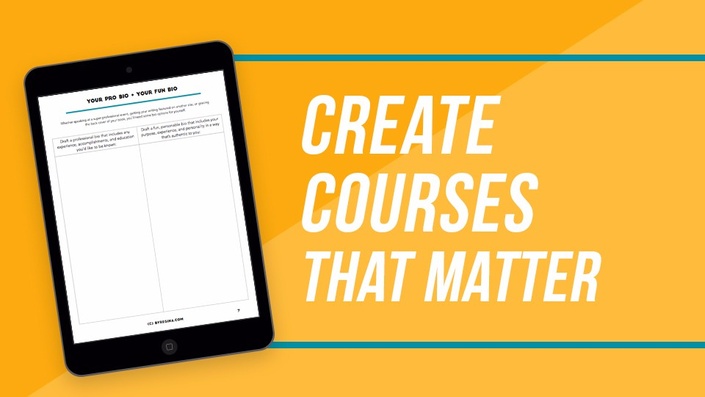 Create Courses That Matter
How to create epic courses and communities from scratch. A 2-day workshop with lifetime access to the trainings and workbook.
Original Price: $0
I always, without fail, come away from your products jazzed and full to the brim with knowledge that's actionable."
- Tors Grantham
Frequently Asked Questions
When does the course start and finish?
The course starts on November 18 and never ends!
How long do I have access to the course?
You will have access for the lifetime of the course. After enrolling, you have unlimited access to the materials--across any and all devices you own.
What if I am unhappy with the course?
Whereas I truly believe that this course will help you if you are serious about creating courses that matter, and getting into books, workshops, and other passive income products, if you are unsatisfied with your purchase, contact us in the first 14 days and we will give you a full refund.
This course is not open for enrollment.